"Coffee is more than just a beverage. It can be more about the experience that it gives to people.
"It's not just your morning shot of espresso, but also a sense of community, a sense of belonging," explains David Facciolo, the owner of TRU Coffee in Footscray.
TRU Coffee stands for Truly Reliable Understanding (of) Coffee and David's dream was always to own his own coffee shop. His parents owned a pizza shop at Melbourne University for twenty years, and David would work there part-time, learning the ropes. He then honed his skills in cafes and restaurants across Melbourne for fifteen years.
While scouting out locations for TRU Coffee, David fell in love with Footscray.
"Melbourne's east is my comfort zone, but I wanted to stretch myself and go somewhere new when it came time to open my own space," smiles David.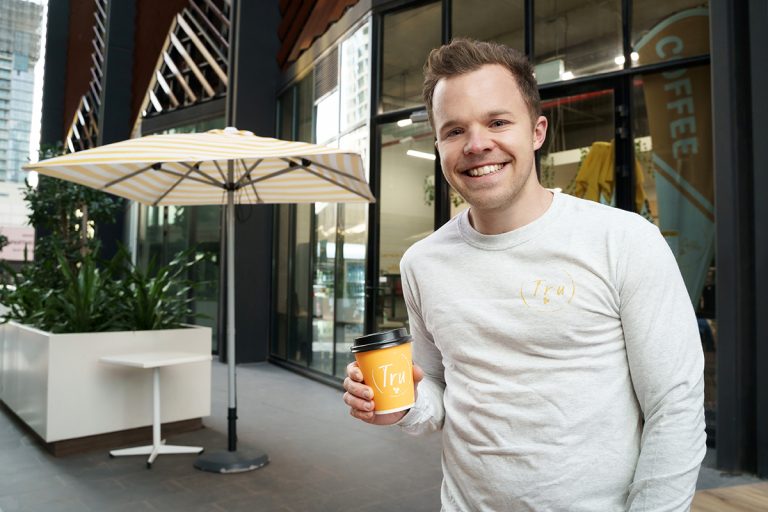 "In just two hours I signed the lease. I fitted out this empty shop myself and opened TRU Coffee three months later!"
Opening seven days a week from 6:30am, David says their point of difference is catering to a broad demographic of busy professionals, young families and retirees with a cafe experience that they can visit every day.
At TRU Coffee customers can grab a coffee, sandwich, snacks or freshly squeezed juice (The Cozzo juice, anyone?) or take a seat and watch the dog-walkers and cyclists go by.
The retail section offers bread, eggs, milk and fruit and ready meals, including the minestrone soup made from an authentic recipe courtesy of David's dad's Italian heritage.
You can also expect to sip lattes and flat whites made using exclusive TRU blend coffee beans roasted by Black Bag Roasters in Richmond.
"Our house blend offers a great degree of balance so that we can satisfy both black and white coffee drinkers. It also blends in very well with alternative milks, which we knew would be pivotal as thirty-five per cent of our customers drink alternative, non-dairy milk products.
"I like to think that the TRU Coffee blend reflects how we are as a cafe – something that's balanced and warm that caters to different crowds."
While TRU Coffee is relatively new to Footscray's cafe scene, David already has a recipe for success. He strongly believes that the business must centre around good service and good quality while understanding what people are after.
"I know through my years in the hospitality business – or really, the people-serving business – that an interaction or experience with your barista or waiter is one that can really make your day. Even the smallest impression can have a great impact.
"That's why we focus on building relationships with our customers. People may not remember what we said or did, but they will never forget how we made them feel."