It's the end of the night and you're craving a big slice of pepperoni pizza. Slice Shop Pizza to the rescue!
The corner store in Footscray's Nicholson Street mall slings takeaway pizza by the slice for hungry snackers, just like the famed pizzerias of New York.
"Our New York style pizza is quite flat and cheesy. It's quite different to Italian, Neapolitan style pizza which tends to have a puffy crust," explains co-owner Steve Kimonides.
The idea for Slice Shop Pizza stemmed from the Footscray local's experiences drinking at Mr West (across the street) and wanting to go somewhere for a bite to eat nearby.
"There wasn't anything like Slice Shop in Footscray at the time, so my business partner and I decided we should solve my problem," laughs Steve.
"Pizza was the perfect solution as I happen to really like pizza – plus you can fold the slice to eat it with one hand while holding a beer in the other hand!"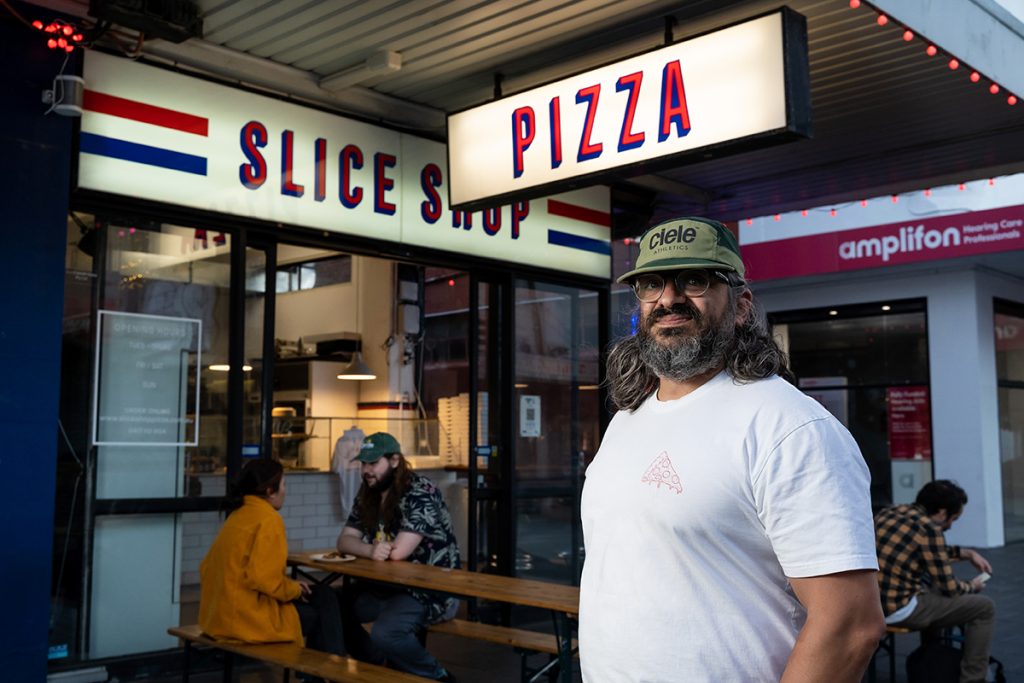 Steve and Raphael Guthrie also own Burn City Smokers in South Kingsville, so they already had extensive hospitality experience before opening Slice Shop in April 2019. Yet it still took them over eighteen months to perfect their pizza dough.
"We've used the same starter dough for years, and we incorporate a little bit of the previous dough into every new batch of dough."
Walk into Slice Shop Pizza at opening time and you'll discover a drool-inducing array of pizzas sizzling out of the deck oven and laid out in the glass display cabinet.
There's usually seven items on the menu, with one special. Steve's favourite pizza – and the bestseller – is the mushroom pizza. Juicy mushrooms are diced and placed atop the base with porcini powder. It's then finished off with a scattering of parmesan and mozzarella and a drizzle of fresh thyme truffle paste oil at the very end.
If you're drinking at nearby bars Mr West and Baby Snakes you can even get the pizza delivered to your table.
"We're not reinventing the wheel," smiles Steve modestly. "We're just trying to make and sell really good pizza and to provide some old-school hospitality."