Ever wondered why there's always a lineup of striped deckchairs on the pavement of Gamon Street?
The cheery chairs mark the entrance to Sedonia – a warm, welcoming and light-filled lifestyle store by best friends Nicola McGaan and Inge Turpie.
Nicola and Inge met in their early 20s in art school, sharing a love for printmaking and good design.
"We had parallel careers, with both of us working in theatre and then in design," says Inge. "Then we shared a small showroom workspace in Victoria Street Seddon where we also started a little shop selling our own jewellery."
As the business grew, an opportunity arose to move to their current shopfront on Gamon Street in 2008.
"This building has a great story! It used to be an old milk bar and Greek food store with a residence attached," smiles Nicola. "The landlord grew up in the back house – you can still see the original Victorian door – and the building is owned by the same family to this day."
Nicola and Inge have retained many of the features of the original building, revealing the fine corrugated iron ceilings and a hidden skylight during their renovations.
Now the beautiful light filters into their store illuminating the many treasures they stock. Sedonia is home to a collection of lovingly curated and designed pieces from all around the world, with a focus on sustainable, well-designed and high-quality items.
Being makers themselves, with a key eye for the finer details, Nicola and Inge are also interested in the story behind each product. They only source items that they would use or wear and find practical in their own homes.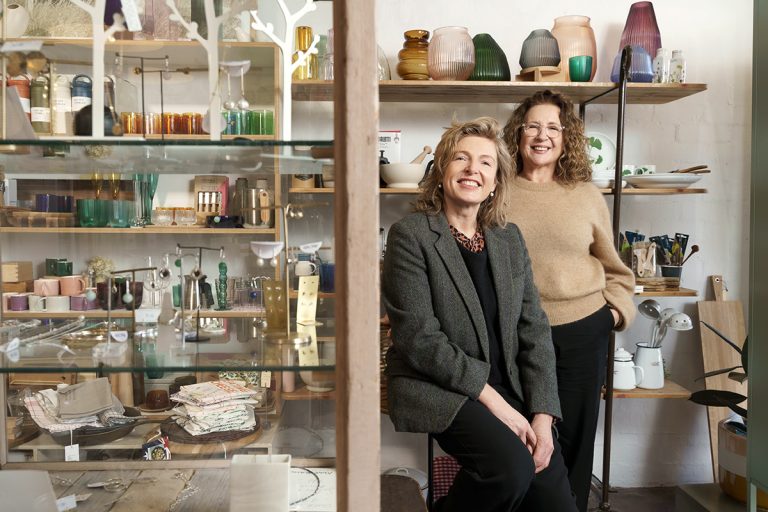 Out of the many products in store, Nicola enthuses over their long-standing relationship with Finnish label Marimekko as well as the ethically made Francie knitwear she's wearing, while Inge loves the locally made Kennedy Smith candles and the Bedouin Societe bed linen she uses in her own home.
Another signature product are the deck chairs by Australian company Ici et La. The loomed fabric is created by a family business in France while the frames are manufactured in Indonesia. Nicola and Inge love them for their colour, comfort, and sustainability.
What does the future hold for these business partners and friends?
"Sedonia is like our shed," laughs Inge. "We love changing things around and the stock that we sell evolves as well. We have an online store, but we predominantly identify as a bricks-and-mortar shop. That's our core focus because we're more about customer service and giving people a lovely experience. And I think that's why people keep coming back."