Every week for the past nineteen years Seddon Deadly Sins has amused and inspired passersby with their A-frame pavement chalkboard.
"Whether people come into the cafe or not, people stop to read the chalkboard and have a laugh," explains Chris Gooden, the owner. "The chalkboard is part of our effort to help to create and engage the community."
Sometimes the quote is inspirational; sometimes it's political; and more often than not, it's funny.
So you might stroll past one day and guffaw at this: "What do we want? Time Travel. When do we want it? It's irrelevant!"
The cafe also prides itself on its delicious food, quality coffee and a range of to-die-for cakes.  Work your way through each of the seven deadly sins (or seven virtues).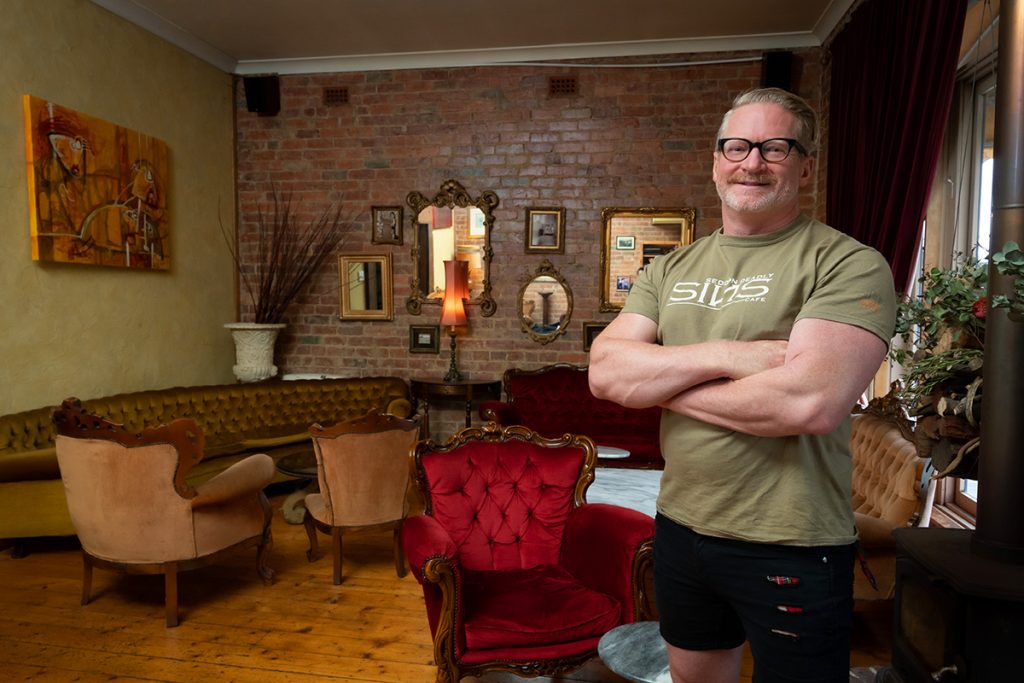 The cafe's relatively small shop front belies the expansive dining areas you can choose from – the plush 'good room', the secluded walled courtyard, streetside on Victoria Street or the parklet around the corner on Young Street.
"Seddon really is a special pocket of inner city in Melbourne. It's a cosy neighbourhood and the high street is not the main thoroughfare with lots of traffic and noise, so it's a nice place to hang out," smiles Chris. "It's all about repeat business too. I think it's better to get to know people, to hear about their lives and to watch kids growing up. I love being immersed in my little community."
Part of Chris' community work also involves volunteer work with people experiencing homelessness, supporting indigenous hospitality training and advocacy for the LGBTIQ community.
His latest project is working with Maribyrnong City Council to install a coffee machine at the Braybrook and Maidstone Neighbourhood House so that visiting families can connect over a cup of coffee.
"I love putting a smile on someone's face. People can be very busy and very distracted these days – but if we can make you stop and smile, we get that smile back and we enjoy our work more. And all those little connections; that's how we become a better community."
For more information about Seddon Deadly Sins visit the directory listing.