"We wanted to create the kind of cafe that we would enjoy visiting. In fact, our house pretty much looks like this, except with a couch and a TV!" laughs Taze Brodel.
Taze and his wife Stephanie are Maidstone locals and the owners of One For the Crow, a plant-based daytime cafe located in a quiet residential pocket of their suburb.
At One for the Crow you can enjoy cafe classics with a vegan twist, as well as being able to take home a plant from the micro-nursery set up by Stephanie, a former horticulturist at the Royal Botanic Gardens.
For many years, Taze and Stephanie worked in various hospitality roles and it was always a dream to open something of their own, together. So when they saw the 'For Lease' sign on Commercial Street during one of their walks around their neighbourhood they looked at each other and thought 'why not?'.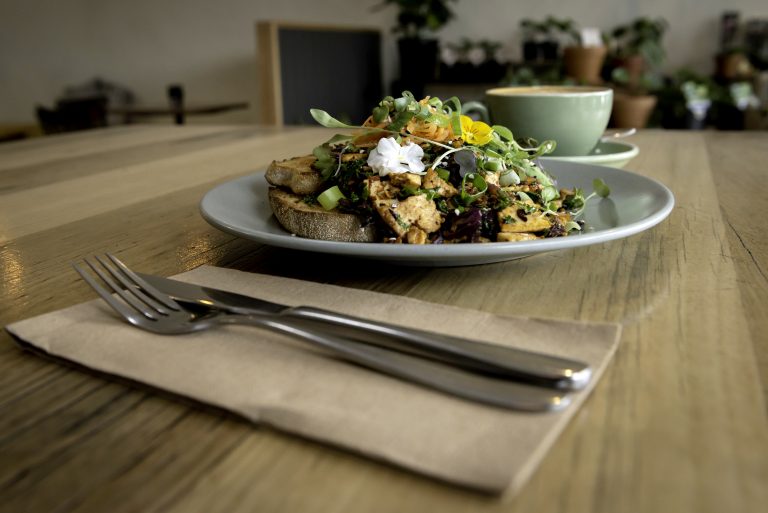 One for the Crow opened in February 2018 and it quickly gained a following for its delicious food and friendly service – and not least, for the abundant greenery creating a relaxing vibe in the space.
Their customers return again and again for the signature, best-selling dish – the chilli tofu scramble. It's made with a moreish house-made chilli oil ("like you might pour on top of dumplings," explains Taze) containing fermented soy beans, chilli and a mixture of fresh herbs and spices.
Another popular dish is their BLT – but instead of bacon they grill a tempeh 'facon' infused with maple syrup and smokey flavours to impart that bacon-y flavour.
"At One For the Crow we welcome vegans and non-vegans alike," smiles Taze. "We aim to take away the stigma that vegan food is strange and unapproachable; to strike a balance between dishes that are recognisably plant-based and items which may surprise you. The main thing is that it's delicious!".