There is nothing more satisfying than cooking your meal just the way you like it – and that's exactly what you can do at Mr Brooks Stonegrill and Bar.
The casual and stylish restaurant primarily focuses on high-quality steaks. However, instead of placing your order and waiting for it to arrive from the kitchen, Mr Brooks offers a fun and exciting experience because diners can cook their perfect steak on an individual stone grill heated to a whopping 400 degrees.
Maribyrnong residents and second-generation Vietnamese migrants Helen Lam and Tang Vo, along with Helen's brother Jason, opened Mr Brooks in 2018. It was meant to be – Helen's family background was in hospitality and she had always wanted to manage her own venue.
On the other hand, Tang started his working life as a motor assessor for an insurance company and was brought in full-time to help his wife and brother-in-law with the growing business in 2019.
Helen, Tang and Jason fitted out the venue together after they took over the site from its previous incarnation as West of Kin. The 'Brooks' in the name is a reference to its location in Braybrook and the interior features a mural of the mythical Mr Brooks sitting beneath a 3019 postcode sign.
The menu is American-inspired with a smattering of Australian favourites, but most customers come for their signature Australian wagyu scotch steak with a marble score of six (not too fatty, not too lean), presented with a hot stone and a choice of sides.
The kitchen boasts three fridges because on average they sell 100kg of meat a week!
The stone grills are distributed by a Victorian company and restaurant owners have exclusive rights over a particular geographical area. That's why you won't find another stone grill restaurant within close proximity to Mr Brooks.
"We were hit hard during the lockdown because we were unable to open and could not offer takeaway – but we still stayed positive," says Helen. "We decided to take the time to make Mr Brooks even better, so we spent months redecorating."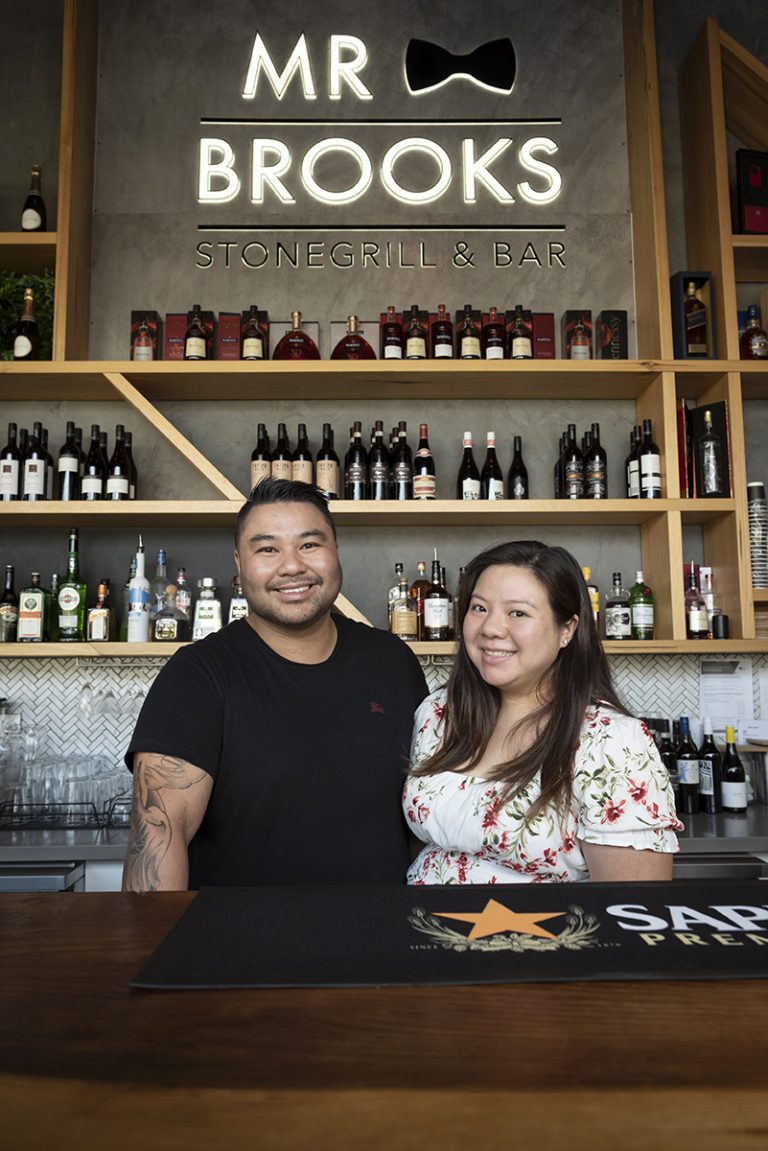 Now that Mr Brooks is open again they are regularly booked out for big group occasions. The team pride themselves on their friendly approach, attentive service and welcoming atmosphere for people of all ages and backgrounds.
The large outdoor courtyard is particularly family-friendly as kids can safely run around while the adults eat. The full bar offers a wide selection of drinks, including delicious house-recipe cocktails.
"Because we're such a large venue, a lot of people visit us for special events such as a birthday or anniversary," smiles Helen. "That's why we always feel a responsibility to bring our A-game. We are privileged to be part of someone's celebration, so we want to do everything we can to ensure that our customers have a happy and memorable experience."
To learn more visit the directory listing.