Twenty years ago, Abdul Hussen, an Ethiopian refugee, and Rozenn Blouin, a French woman travelling in Australia for just a year, met in Melbourne and fell in love.
Fast forward two decades and they have raised a family, built a business, and established a reputation as well-known personalities and ambassadors for the Ethiopian community in Melbourne.
In 2004, the husband and wife team opened Konjo craft shop as a cultural showcase for Abdul's African roots. Abdul was also frequently sought out by the Ethiopian community for his discerning palate, so the couple decided to extend their business to add an Ethiopian cafe in 2013.
The two businesses merged onto one site in 2018 and their Irving Street shopfront is now a vibrant hub for Ethiopian culture.
"Konjo means beautiful in the language of Abdul's Gurage tribe," explains Rozenn. "It's similar to the way Italians might use the word 'bella' – people and objects can be konjo and yene konjo is a term of endearment."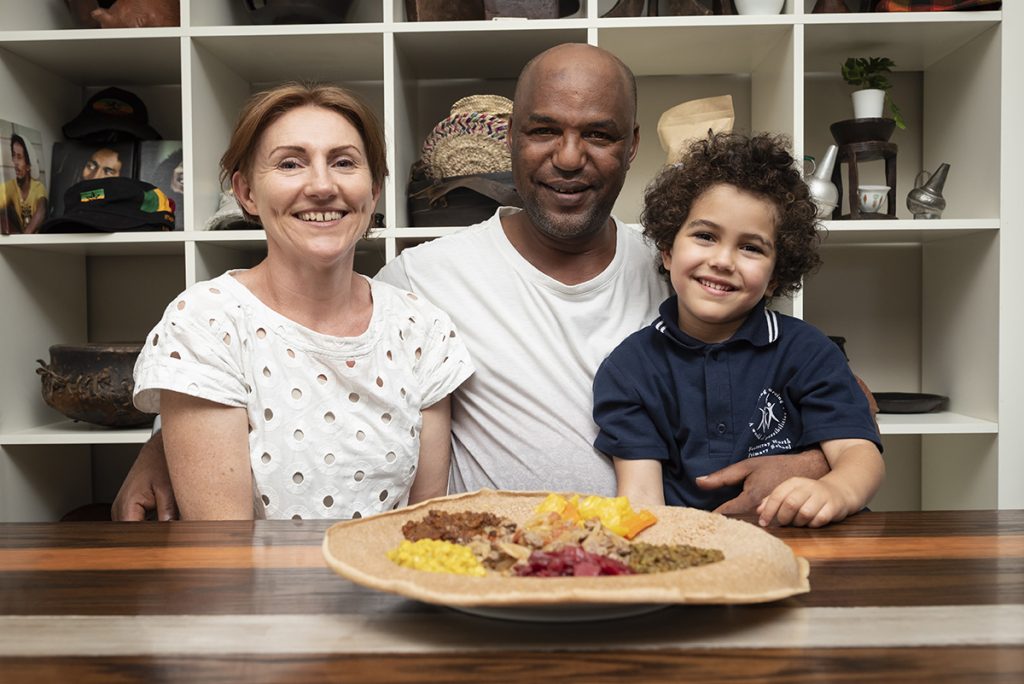 Konjo serves breakfast, lunch and dinner, seven days a week. For a main meal try one of Konjo's signature dishes, called kitfo. It's a famous dish from the Gurage tribe consisting of raw beef topside diced finely by hand, mixed with mitmita, (ground bird's eye chillies, cloves, and salt) and kibbeh (Ethiopian clarified butter seasoned with a mix of native Ethiopian herbs and spices). It's served with injera, a slightly sour flatbread.
If you look carefully at Konjo's walls you'll be able to spot a traditional wooden kitfo chopping bowl hanging as decoration. It's a shallow bowl made of dark wood, with a compartment for the meat, a central axis marked with notches from countless knife cuts, and another compartment for the minced meat where the mixing happens.
Other dishes to try on Konjo's menu include Ethiopia's national dish, Doro Wot – a spicy chicken stew slowly simmered in spices – and the beef tibs – prime beef strips sauteed with onions, garlic, jalapeno, and berbere spice mix.
All the spice blends used at Konjo are prepared by Abdul's mother back in Ethiopia and their loyal customers appreciate the truly authentic cuisine offered at Konjo.
"Some of our customers visit us three times a day!" laughs Rozenn. "We know them well and treat them like family. They even know that they can order secret dishes that aren't on the menu!"
To learn more visit the Business Directory.