Karlaylisi is the name of a flower found on the mountain tops of Xinjiang Province, home to the Uyghur ethnic minority in China.
So when Dawut Sidik, an Uyghur man from Ürümqi (the capital of Xinjiang) opened his restaurant in Footscray in 2018, he was inspired by his homeland's flower – which is why you'll find it featured on many of the restaurant's decorations, as well as the restaurant's name.
Sidik's journey to the kitchen is a very typical migrant story. He arrived in Melbourne in 2013 with his wife Roshan, after having worked as a surgeon in a big hospital for sixteen years.
Without English language skills, Sidik could no longer earn a living as a doctor — so he worked as a kitchen hand in an Uyghur restaurant in Springvale, which is also where he learnt to cook.
"Before coming to Australia I had never cooked before and so at the beginning I was always accidentally cutting myself," he says with a wide smile. "I spent three years in the kitchen and that's where I learnt to make food from my homeland such as gosh nan – flaky pastry filled with lamb and cumin, samsa – baked parcels filled with lamb mince and onion – and lamb skewers. I'd cross-check the recipes on the internet, and then experiment and test."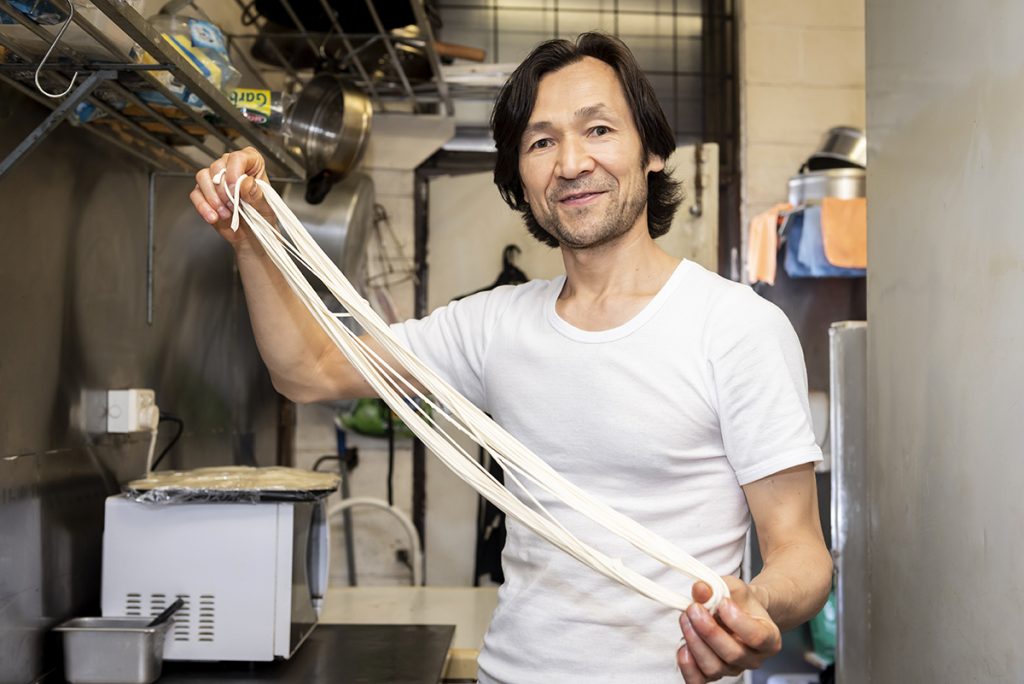 The ubiquity of lamb on Karlaylisi's menu is because Xinjiang is in northwestern China and the food incorporates Asian and Middle Eastern influences thanks to its location along the Silk Road. As the Uyghur people are predominantly Muslim, all meat is halal.
Uyghur cuisine is relatively uncommon in Australia, which makes a trip to Karlaylisi an exciting culinary adventure. On Karlaylisi's long menu (written in Uyghur, Chinese and English) you'll find springy hand-pulled noodles, steamed buns, sturdy dumplings, homemade bread and long spiced skewers of the type that Sidik would eat every day back in Ürümqi.
All the dishes are made fresh on-site every day. Sidik's signature läghmän, the bestselling wheat noodles, are made by hand-pulling, stretching and twisting dough into long strips. The noodles are then wok-tossed with your option of sauce, including without chilli if your spice tolerance is low.
Karlaylisi's hearty fare and generous serves mean that the restaurant is the perfect destination for a large group feed with friends or family. In fact, Karlaylisi has become so popular that Sidik's next plans are to open bigger premises so he can expand beyond the eight tables he currently serves.
"My dream is to keep introducing Uyghur cuisine to Australians," smiles Sidik. "My children are all born in Australia, and it's important to me that they can appreciate their heritage and are able to share their food and culture with others too."