Pivot. Resilience. Community.
These are three words that Remi Pham and Sonia Lear have experienced and embodied as the owners of food truck business Happy Camper Pizza and their newest venture, Campground Kitchen.
"Sonia and I were living in Mumbai. Sonia was an ABC correspondent and I was earning a good living as a mechanical engineer. But I wasn't happy with my job – I guess you could say I had a midlife crisis!" smiles Remi. "I said to her, 'You know what? I don't want to be an engineer, I want to start a pizza truck."
"I'd just given birth to our first child – so to say that I flipped out was putting it mildly!" laughs Sonia. "But that was the start. Remi had planted the seed for Happy Camper."
"Life's too short. We need to pursue our dreams,"
In 2013 the couple bought two vintage Airstreams and began the process of renovating one into a pizza truck. Their plan? Explore Australia with their kids and to sell pizza while they travelled.
"That trip ended up a bit of a mess," admits Sonia. "The Airstream pizza truck didn't arrive in time for our departure, so we packed everyone into the caravan and drove to the Northern Territory as a test run. By the time the Airstream did arrive, we were ready to go home.
"On reflection, towing two vehicles, applying to get Council permits at every location, making pizza, as well as juggling three kids under two years old, was an impossible task. I don't know what we were thinking!"
Back in their West Footscray home, the couple started with one food truck parked in their driveway. Remi still worked full time and on weekends, he would test recipes and take their truck out to sell pizza.
With the help of Sonia, Remi was able to quit his engineering job in 2018 to focus on Happy Camper Pizza, and now oversees the food and operations. Sonia brings her media experience to the business, managing social media, staffing, customer service, and is generally the 'ideas' person.
Prior to lockdown, the couple bought a Braybrook warehouse and moved their growing fleet out of their home. The business grew steadily with private catering (weddings being especially popular), special events and a regular stint at Yarraville Gardens.
"Then March 2020 hit. All events were cancelled. In order to keep our staff employed and our business afloat, we started offering takeaway from the Braybrook warehouse" says Sonia. "We also converted one of our trucks into 'Miss Sippy West',' delivering cocktails and vacuumed-sealed pizzas to our customers."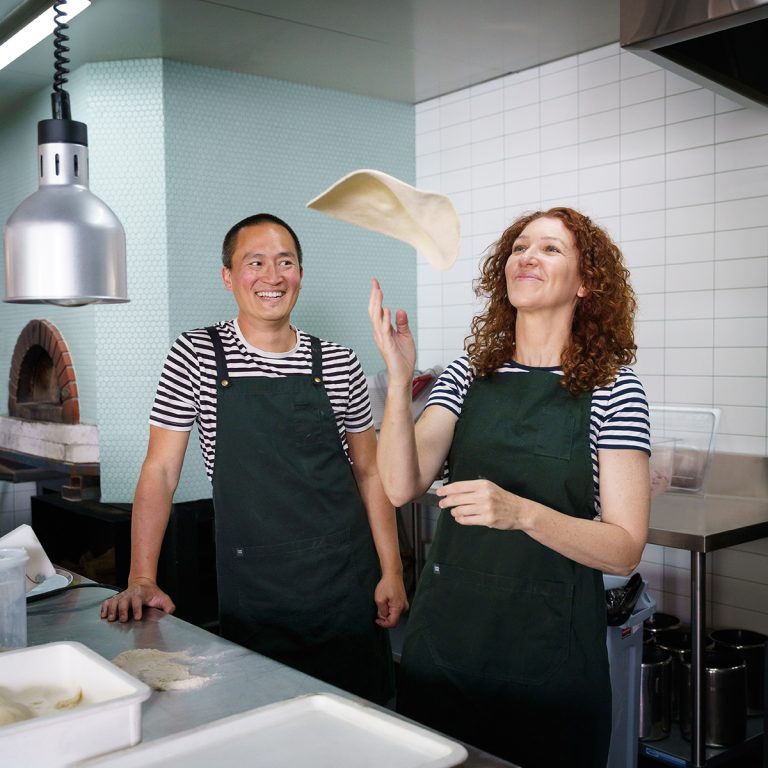 That passionate support came to the fore when the couple experienced another setback. In December 2021, an explosion at the warehouse damaged all of their food trucks, destroyed the Mrs Sippy truck, and burnt down half the warehouse.
Sonia takes a deep breath. "During lockdown, we hadn't renewed our insurance because we couldn't afford it. Then when things opened up in late November 2021, we were so busy that we simply forgot to re-insure. That meant that not only did we have to refund all event bookings for December and beyond but we were also facing a massive bill to rebuild everything we'd lost."
What transpired is an immense demonstration of kindness and generosity that still makes Sonia feel teary.
"Pizza Wagon, another pizza food truck, started a GoFundMe campaign that raised $50,000 to help us get back on our feet. Local pizza businesses, SPQR and Nicolosi Pizzeria lent us trailers so we could keep our staff employed and didn't lose all our Christmas bookings.
A local carpenter and electrician rejigged their schedules to rewire and start rebuilding, a tow truck company wouldn't charge to tow the Airstream to get repaired, and Footscray West Primary School even lent us their canteen.
"COVID and the fire taught us that out of every disaster, there is an opportunity. We can dig deeper. We can remain positive. And people want us to succeed."
Rising literally out of the ashes of the Braybrook warehouse is Remi and Sonia's latest pivot: a dine-in pizza bar called Campground Kitchen.
"Campground Kitchen is going to be our 'base camp'," explains Remi. "A family-friendly pizza bar open for lunch and dinner five days a week and a place for the community to come together."
It will also be home to Sonia's newest project, a social enterprise called 'Bonfire Hearts' with a mission to "spark the fire" to support women to own their own hospitality business and connect with other like-minded women.
"At Happy Camper Pizza and Campground Kitchen, food is our passion, and everything is handmade with love.
"But we don't just serve pizza. Food is connection. We are here to deliver a personal, happy and joyful experience and make you feel like you're part of one big happy family."