In 2019 the owners of famous Melbourne bars Cherry Bar and Yah Yahs took over the site of the beloved Footscray pub Reverence Hotel, which had been slated to be demolished to make way for apartments.
"After fifteen years running Cherry Bar and Yah Yahs, we were looking for a third venue to open and we specifically wanted to run a pub, not another nightclub," explains Nicholas Jones. "We knew the previous owners of The Rev and after it closed we thought that the west was under-serviced from a live music point of view, especially considering the number of artists and bands that are from around these parts."
After months of extensive renovations (and with the plans for the residential development shelved), Nicholas Jones and his team were ready to unveil the pub and live music venue as the newly-christened Hotel Westwood…but then COVID-19 restrictions hit.
Live music was one of the worst affected industries in Melbourne's lockdown, and it meant that Hotel Westwood had to wait until November 2020 to finally open to the public.
They launched by converting the pub's car park into a beer garden festooned with colourful bunting, shipping containers bordering an expanse of fake grass, and street art by Melbourne street artists including ChuckM, Makatron and Cruel Space.
In the beer garden, you can enjoy tiki cocktails and tacos every Friday, Saturday and Sunday and Nicholas is hoping to retain the pop-up permanently as a 'garden stage'.
The heartbeat of Hotel Westwood is as an old-school pub and live music venue and Nicholas is particularly excited about the music lineup in store. He started his varied music career as an eighteen-year-old creating the visuals behind DJs at major music festivals, then operated a music website and worked at venues around Melbourne. For the past fifteen years, he has toured international artists and booked up to a thousand gigs a year.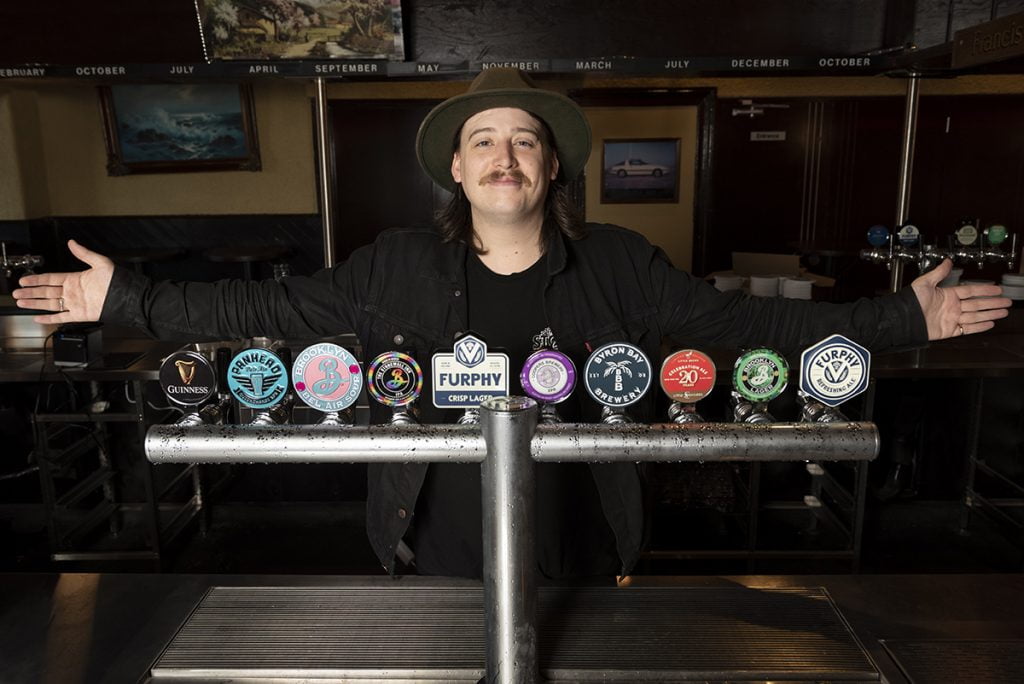 "Our plan for Hotel Westwood is to offer a premier live music experience in the west, by bringing in international and interstate talent while also offering a stage for local musicians to perform all genres of music," explains Nicholas.
In fact, Nicholas reckons Hotel Westwood's main band room is one of the best in Melbourne. No expense has been spared, with state-of-the-art PA equipment, a fully digital system and acoustic treatment panels similar to what you'd expect to find in a concert hall, all installed by renowned sound engineer Bruce Johnson.
There is also a second smaller band room, which means music lovers will be spoilt for choice when it comes to live music at the pub.
Finally, a pub wouldn't be complete without good food and good beer. Hotel Westwood extends The Rev's popular Mexican menu with a bistro kitchen serving pub classics plus Latin street food. Diners can pair their meals with a pint from the selection of twenty beers on tap, or choose from the vast selection of wine, bottled beer and spirits displayed behind the retro 70s style bar.
For the moment you can enjoy live music at Hotel Westwood on the weekends, with a view to expanding the lineup seven days a week. You'll be able to hear DJs and bands and enjoy free and paid shows, making live music accessible to as many punters as possible.
"This place's DNA is in live music.  Our ambition for Hotel Westwood is that you'll be able to come to one of the best sounding band rooms in Melbourne and hear world-class live music every day of the week," grins Nicholas. "We can't wait to have this whole place humming again."