Mango is the owner of Hot Dog Hustle, named Melbourne's best food truck in a Leader Newspaper survey in 2020.
He started his food truck business when he was just twenty-seven years old because he couldn't afford to start with a shop front.
A mere three years later, he now slings over 400 hot dogs a day at his Braybrook food truck, a stand alone store opposite Footscray train station and a third store located at Australia's biggest shopping centre at Chadstone.
With Hot Dog Hustle, Mango wanted to show people that a hot dog wasn't just a footy frank with ketchup and tomato sauce. He uses 100% Australian beef sausages sourced from Victoria producer, Bronsons, and French brioche buns as the base.
"Everyone's done burgers," laughs Mango Huynh. "So we decided to do hot dogs!"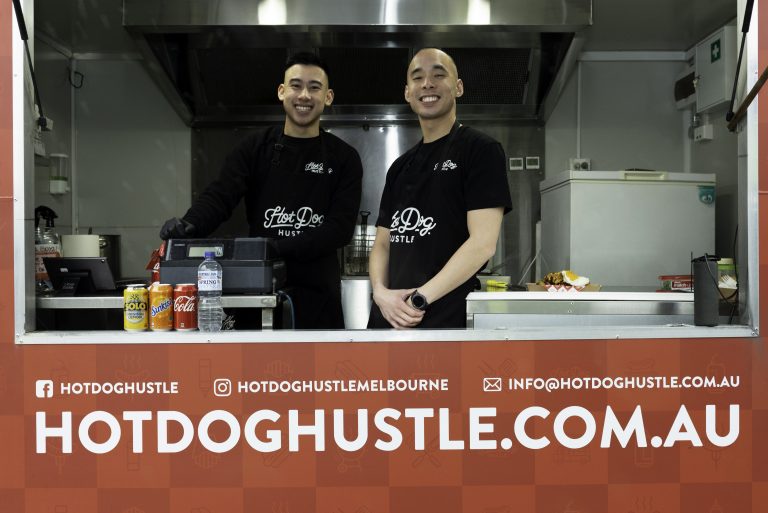 Then things get a bit crazy as he incorporates Korean, Japanese, Taiwanese and Indian flavours into the loaded dogs. These are hot dogs that require a knife and fork to eat – it can't be done (elegantly) with your hands!
The creative addition of furikake, sweet pork floss, bulgogi steak and curry means that Hot Dog Hustle's hot dogs have a cult following. The food truck in Braybrook is located 'in the middle of nowhere' (according to Mango) yet hungry hoards still deliberately hunt it down and regularly fill the carpark.
Mango's tip for first time visitors? "Get the Hustler, which is my original hot dog recipe, or if you're super hungry, the Bulgogi Cheesesteak, because it's huge!" he laughs. "And don't forget a serve of fries. It comes with my secret recipe seasoning and house made sauces that will knock your socks off!"